HIGHLIGHTS
Bhutan, a Buddhist kingdom on the Himalayas' eastern edge, is known for its monasteries, fortresses (or dzongs) and dramatic landscapes that range from subtropical plains to steep mountains and valleys. In the High Himalayas, peaks such as Jomolhari are popular trekking destinations. Paro Taktsang monastery (also known as Tiger's Nest) clings to cliffs above the forested Paro Valley.
Itinerary
Day
1
Transfer to Thimphu
Fly with the wings of the Dragon to spectacular breath taking bird eye view of Paro International airport. Upon arrival in Paro, you will be greeted by the Driver. Driving across the Paachu river and Thimchu river will bring you closer to the nature. While you are fully engaged and lost with beauty of nature amongst the massive mountains, you arrive & check at hotel, Thimphu (altitude 2400m). Overnight stay at Hotel Thimphu.
Thimphu Sightseeings :
Tashichhoedzong (Outside) - Meaning: Fortress of the glorious religion. It was built in 1641 and rebuilt into present structure by late king Jigme DorjiWangchuk (Father of Modern Bhutan) in the year 1962-1969. It houses the secretariat building, the throne room and the office of the king, and the central monk body.
Memorial Chorten - It was built in 1974 in the memory of third king late Jigme DorjiWangchuk, who is regarded as the father of modern Bhutan. The temple inside gives good examples of trantric Buddhist and its philosophy.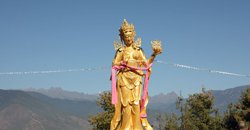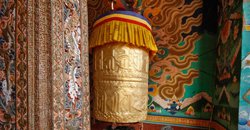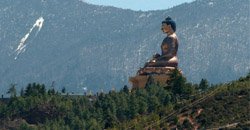 Day
2
Thimphu sightseeing
Semtokha Dzong - Semtokha is 6 km from Thimphu; it is on a hill stand and was built in 1629 by Zhabdrung. It is the oldest fortress in the kingdom built by Zhabdrung. It now houses the cultural and Buddhist studies.
The Institute for ZorigChusum - It is also called as National Institute For ZorigChusum. The school teaches the paintings and also making of sculpture and statues. It offers an eight-year course, which provides instructions in many of Bhutan's traditional arts to boys and girls from throughout the country whose aptitude is more of artistic than academic.
National Library – the National Library was established in 1967 to preserve many ancient Dzongkha and Tibetan texts. Besides the lot of collection of the religious texts, we do have the good collection of English –language books, modern academic texts and science.
The Folk Heritage Museum – This Folk Heritage Museum is a showcase the 19 century farm house and the living style of the Bhutanese family. It was founded by Her Majesty the Queen AshiDorjiWangmoWangchuck.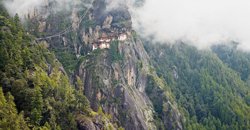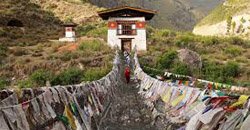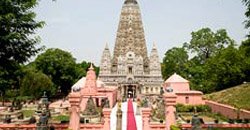 Day
3
Transfer to punakha
Late morning drive (70 kms / 2.30 hrs) to Wangduephodrang, with a stop en route for tea at Dochu La Pass (3,100 meters), where on a clear day you can get spectacular views of the Himalayas. In Wangdue, stop at Mehsina village & visit Chime Lhakhang - The Temple of Fertility built in 15th century by Lama Drukpa Kinley. (This monk is popularly known as the Devine madman for his philosophy, "Salvation through sex"). Afternoon drive to Punakha, the former capital of Bhutan, and visit Punakha Dzong, which is noteworthy both for being one of the most beautiful dzongs in Bhutan and also for having been built by the first Shabdrung in 1637. Overnight in Wangdue.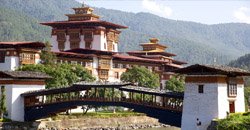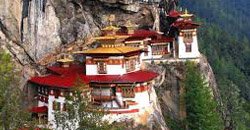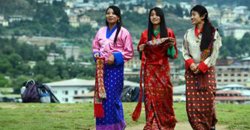 Day
4
Transfer to Paro
Morning transfer (160 kms / 4 hrs) to Paro. After lunch, rest or stroll about in Paro town.... This beautiful Paro valley is about 2250m above the sea level. Paro is believed to be one of the first valleys to have received the influences of the Buddhism. The beautiful valley with its rich terraced farmland is home to some of Bhutan's oldest temples & monasteries. The country's only airport is in Paro. The valley also offers the calm of the country side, the beautiful landscapes, scenic and scattered villages and other historic buildings. Overnight in Paro.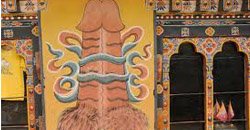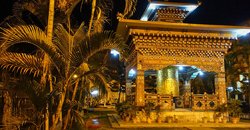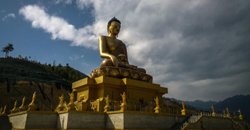 Day
5
Paro sightseeing
Drugyel Dzong - Situated in the north end of the Paro valley built in 1649 to commemorate the victory over Tibetan invasion. It was gutted by fire in 1951, & now it is in ruined fort, but it is kept as a monument for the visitors from outside as historically this dzong is very important. On a clear day, the view of Mt. Jomolhari can be seen.
Rinpung Dzong - Meaning: fortress of the heap of jewels. It was built during the time of Zhabdrung in 1646. It houses both administrative and monastic bodies. It is also a venue of the Paro festival (Tsechu), held once in a year during spring time.
Taa Dzong - Meaning: watchtower. It served as a watchtower during the war to guard the dzong from the external invasion. Even if the dzong is capture by the enemy, there is always hope for the Bhutanese to regain it, if the watchtower is in their hand. It is converted into a national museum in 1968. It houses a fine collection of art, relics, religious thangkas, paintings, animals, armory and Bhutan's exquisite postage stamps.
Taktsang Monastry – Taktshang is the most famous of Bhutan's monasteries, perched on the side of a cliff 900m above the floor of Paro valley where the only sounds are the murmurs of the wind and the chanting of monks. The name means 'Tiger's nest", it was named because Guru Rinpoche is said to have flown to the site of the monastery on the back of a tigress. He then mediated in a cave here for three months. Later many Buddhist masters have mediated here. It is one of the very important pilgrimage sites even for the Bhutanese people.
Kyichu Lhakhang – It is one of the two most sacred and the oldest temples in Bhutan, built in 7th century by Tibetan king SongtsenGampo (the 33rd Tibetan king, who is also the manifestation of avoloketeshivara, commonly known to Bhutanese as Chenrize). The legend tells that a giant demon was terrorizing the whole of Himalayan region, preventing the spread of Buddhism, so to subdue it the king built 108 temples in one day all over the Himalayan region out of which 2 are in Bhutan (Kichu Lhakhang in Paro &Jambay Lhakhang in Bumthang). Kyichu Lhakhang was built on her left foot. The temple of Jokhangin Lhasa was built over the very heart of the demoness.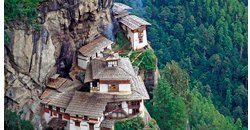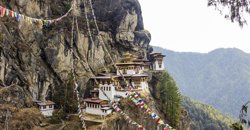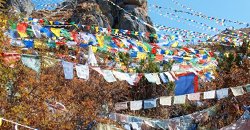 Day
6
Drop to Paro International airport. Depart Bhutan. Tashi Delek!
Depart from the hotel & drive to Paro International Airport. Drop to Paro international airport. Warm wishes from Kingdom of Himalayas with happy ending see off. Depart from Paro International Airport. Tashi Delek!
CP Meal Plan ( Breakfast only )
Airport Transfers
Hotel Transfers
Complete Sightseeing
Transfer all in private basis in Wagon R ( 4 seater )
Insurance, Liquor, Laundry, Tips
GST 5.00%
Personal Expenses
Anything not included in the Inclusions
FAQ
Is there any lack of oxygen in Ladakh?
Anybody travelling 10,000 above sea level will find difficulty in breathing or is likely to fall prey to altitude sickness. It happens due to low level of atmospheric oxygen.
What are the symptoms of High Altitude sickness? How long does it take to get acclimatize in Ladakh?
Some common symptoms of high altitude sickness include giddiness, loss of appetite, lack of sleep and difficulty in breathing. The best way to get acclimatize in Ladakh is a natural rest for at least 48 hours.
What kind of accommodation is available in Ladakh?
Ladakh hotels are separated into four different categories- A, B, C and D. When it comes to A class hotels, their facilities and services are simply comparable to any 3 star hotel. Almost every hotel in Ladakh is designed with traditional architecture of the region and feature oversized rooms equipped with modern amenities. These rooms are furnished with Ladakhi and Tibetan décor.
How is the road journey to Ladakh?
For those who love biking and adventure of a Himalayan drive, a road journey is the best way to experience it.
How many minimum days are required to explore Ladakh?
You need a minimum 15 days time to explore the region as many villages and monasteries of interest are scattered far away. It might be possible that you want to try hands in mountain trek so you need more time.
What kind of clothes should we bring there?
T-shirts and shorts can do during the daytime but after evening the climate gets chilly and one requires jacket and pullover. If you are trekking 4000 meters above sea level, you need warm woolen clothes. Rain and snowfall can take place in June and July and therefore wind cheaters and raincoats are good. If you are into trekking, a pair of waterproof shoes is a must.
What kind of clothes should we bring there?
T-shirts and shorts can do during the daytime but after evening the climate gets chilly and one requires jacket and pullover. If you are trekking 4000 meters above sea level, you need warm woolen clothes. Rain and snowfall can take place in June and July and therefore wind cheaters and raincoats are good. If you are into trekking, a pair of waterproof shoes is a must.
What is the standard check-in/out time in the hotels?
The standard check-in time is after 1400 hrs (local time) and standard check-out time is 12noon. But it may vary from season to season and city to city. Please check with the hotel for clarity.
Can more than three adults stay in one room?
Most hotels allow additional guests to stay in a room for an extra charge as long as the room doesn't exceed the maximum number of guests allowed per room. If you book a room that cannot accommodate your group, the hotel may cancel your reservation or require that you book additional rooms. If you have doubts, check directly with your hotel for their extra-guest charges and the maximum number of people allowed in the room you've booked.
Other things to carry during my trip to LEH LADAKH?
Good pair of shoes.
Battery backups, torch, plastic covers.
Medical kit.
Caps, windcheaters, sunscreens, lotions, warm socks etc.
things to do
Not available for this package.
Starting From:
Per Person
Money Safe
100%
Support
24*7
Destination
131+
Reasons to Book with us
Team Support
Our amazing as well as charming team helps you choose the best destination packages for you., that makes you feel indulged, comfortable and insipiring thorugh out your travel .
Best of both worlds
We at Nirvana make sure that you do not have to compromise between adventure or good stay. We provide an amazing and comfortable stay that makes you feel at home along with the adventure you are seeking for.
Pocket friendly pacakges
For you do not have to think before traveling and exploring new places, we at Nirvana provide cheapest and pocket friendly packages cause we believe that the journey of the thousand miles begin with a single step.