HIGHLIGHTS
Kareri Lake is one of the high altitude lakes in the Indian Himalayan region situated at an elevation of about 3,300 meters and is located in Kangra district of Himachal Pradesh. The Lake is formed by the inflow of melted waters from the Mankiani and Baleni Peaks. Surrounded by mountains dotted with alpine trees, the Kareri Lake serves as a base for trekkers hitting the trailing tracks deep into the Dhauladhar range and beyond towards Minkiani Pass at 4,250 meters and Baleni Pass at 3,710 meters. The trek to Kareri Lake is one of the most beautiful alpine treks in Himachal Pradesh that cut across several gushing streams and passes through lush green meadows, wild and colourful orchards and thick forest that is a home to numerous Himalayan bird and animal species. One of the major attractions in its vicinity is the temple that is dedicated to Lord Shiva and Shakti on a hilltop overlooking the lake.

Max altitude : 2960 m
Distance : 34 Km
Duration : 2 Days, 1 Night
Difficulty : Moderate
Itinerary
Day
1
Ghera To Kareri Lake
Distance : 17 Km
Time : 8 Hours
Ghera is the last motorable village to start the trek and can easily be reached from Mcleodganj by a taxi or a jeep over a journey of around 20 Km. The trek, starting from Ghera, takes you to Sari village after walking on a fairly flat trail. From there on, a moderate climb through a dense expanse of rhododendron forests takes you to the Kareri Village. Kareri lake is still a couple hours trek from the village through some of the most scenic views of the Himalayan beauty along the Karei stream. Once you reach the lake, pitch your camps for an overnight stay. Enjoy the evening and explore the surroundings.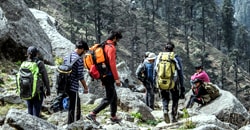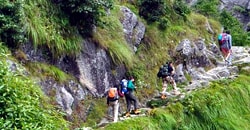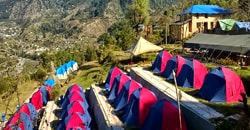 Day
2
Kareri Lake To Ghera
Distance : 17 Km
Time : 5-6 Hours.
After waking up and finishing morning chores, get ready to descend down to Ghera village. The descent is easy but requires mental focus to avoid mishaps. Follow the same trail that you followed while your ascent. You will reach Ghera after a gradual downhill trek of around 6 hours.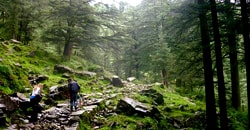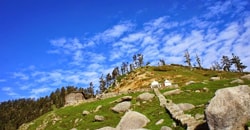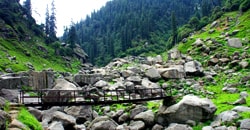 Accommodation in tents
Breakfast, Dinner
Trekking team with necessary equipments
First aid or Emergency kit
All taxes included
Expenses of personal nature (laundry, telephone, etc) Airfare, Tips, gratuities, Insurance.
Soft drinks, bottled water, beverages, etc.
Any costs arising out of unforeseen circumstances like landslides, road blocks, bad weather, Political Strike etc
FAQ
Not available for this package.
things to do
If you are planning to for trekking at that time you need a check-list which you can follow at the time of bag pack
Complete Research: The first step is the most important one as 100 things can go wrong during your trip and you have to be ready to handle each and every situation. So much make a complete research like want kind of where is there, if you have carry cutlery or not, type of stay many other thing.
Test your fitness: In a journey there are many points where you feel sick so much be always be prepared for every situation during trekking you always have to prepared for freezing cold, acute mountain sickness. There are some place where there is shortage of oxygen at such a great heights will test your limit, time to prove how fit you are. You need lot of energy required at the time of trekking if you feeling now you can't handle all the things need not to think like this be mentally prepared also I would recommend you to do some stamina building activities.
Number of days: Take some extra days as you can't believe on weather as any time you can face landslides, heavy rainfall uncertain climate change and you have to stay there only without any option. So take some extra days also don't forget to have day offat some place to celebrate your success , Cheer up as its dream which comes true.
Documents you must carry: Before going there you need to carry following documents like one photo ID- card.
Cloths and accessories: As the weather can change any time you need to carry warm cloths and the following things
Saddle bags/ Magnetic tank bag/ Luggage carrier
Comfortable clothes: tracks, raincoats, tee-shirts also carry one extra cloth
Wind-cheaters, Jackets and pullovers
Flashlight with extra batterie
Shoes with good grip, extra pair of socks,
Sunglasses, caps or hats, sunscreen lotion and insect repellents
Personal toiletries
Water bottles etc
First aid
Don't for trek
Don't take valuable articles with you
Don't leave your garbage at camp site, take back all that you carry
Don't play music on your mobile, this disturbs Jungle silence
Don't take any shortcuts since that may cause you & others lot of trouble
Don't take alcoholic drinks, this can be cause of serious accident
Don't smoke, this too can cause Jungle fires as well as animals will run away due to strong smell
Don't wear flashy cloths, put ones which matches natural colors
Do's for trek
Study the location map and collect information from senior members or internet about the place
Be a good team member, listen to what trek leader says
Maintain discipline
Observe for pugmarks
Trek Essentials
Basic Gear:
Bagpack and Daypack with comfortable straps and rain covers.
Water bottles and high energy packaged food.
Flashlight and headtorch.
High ankle trekking shoes.
Raincoats.
Ropes and sticks.
Clothing :
Wind and Water proof jackets and pants.
Woolen sweaters.
Thermal inners.
Cotton tshirts.
Trek pants.
Woolen caps and mufflers.
Woolen and cotton socks.
Waterproof and woolen gloves.
Personal Utilities :
Soap and washes
Sunscreen cream and Moisturizer
Antibacterial powder
Toothbrush and toothpaste
Toilet Paper & wipes
Quick dry towel

Medical kit :
Medicines like Paracetamol, Aspirin, Ciplox, Nimesulide, Citrizine, Benocide etc. (consult a doctor)
Ointment like Moov or Volini.
Painkillers.
Otrivin.
Anti-rash creams like Betnovet
Starting From:
Per Person
Money Safe
100%
Support
24*7
Destination
131+
Reasons to Book with us
Team Support
Our amazing as well as charming team helps you choose the best destination packages for you., that makes you feel indulged, comfortable and insipiring thorugh out your travel .
Best of both worlds
We at Nirvana make sure that you do not have to compromise between adventure or good stay. We provide an amazing and comfortable stay that makes you feel at home along with the adventure you are seeking for.
Pocket friendly pacakges
For you do not have to think before traveling and exploring new places, we at Nirvana provide cheapest and pocket friendly packages cause we believe that the journey of the thousand miles begin with a single step.