HIGHLIGHTS
If you want to trek alone to a place where you can relax your soul with white snow around, then Kedarkantha trek is the one you would definitely like to go for. Nestled in the Garhwal Himalayas at an elevation of 12,500ft, this trek is a part of Govind Wildlife Sanctuary.
From december to april, Kedarkantha makes for a terrific trek in virgin snow, with pretty campsites and surprisingly wide clearings inside the forests. You're probably to return across snow even as you cross 10,000 foot mark, lying on the forest floor among the pine trees. once you reach the meadows, a large blanket of white is probably going to surround you in each direction.
The garlanded beauty of fringed pine trees, verdant greenery, and frozen lakes adds delight to the eyes and tired legs. The National Park is a treasure of splendid flora and fauna including rare species of mammals and birds. This challenging trek promises an exhilarating experience with chilling sub-zero temperatures at night.
Itinerary
Day
1
Dehradun to Sankri
Our Team will meet you at 6:30 am at Dehradun, the beautiful capital city of Uttarakhand. Sankri is located at an altitude of 6,400 ft. and at a distance of 220 km from Dehradun.
The scenic drive to Sankri passes via Mussoorie, Kempty Fall, Purola, Mori, Netwar along the Tons River to a lodge set out for an overnight stay. It's a far off route thus exquisite that it's one amongst the most stunning drives in the Indian Himalayan Mountains.
It is the scenic surroundings which increase the pleasure of reaching the destination and exhilarates the joy of the thrilling tour that remains yet to be experienced. The journey is a long one and takes about evening to reach the destination.
In the midst, one can enjoy the lunch break at the popular eateries having some local food and homemade spices.
The last 22 km to Sankri is all the more exciting since it travels through Govind National Park which is famous for its avid collection of flora typical of this region and not found in any other location of the country.
Check in to the prior booked hotel. After freshening up, since the evening is free for leisure one can enjoy indoors and relax or can set out to explore the beautiful Sankri village.
The BSNL network is quite erratic here so getting the phone lines can be a little difficult. However, the scenic beauty of the setting sun on the Greater Himalayas from Sankri is a fabulous sight to savor.
Overnight stay at the hotel.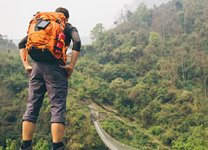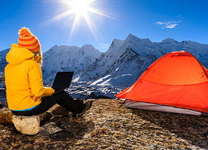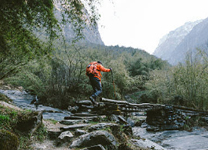 Day
2
Trek from Sankri to Juda Ka Talab
Though our tour starts from Dehradun but the much-awaited Kedarkantha winter trekking trip starts from Sankri only.
After having your breakfast, the trek (approx 4kms) starts at 6.30 AM for our next destination Juda-Ka-Talab (at an elevation of 9,100 ft). Enroute, enjoy mesmerizing views of the trail.
The initial climb would be climbing several bridges through dense forest trees and a thick carpet of maple and pine leaves all brown in color.
The Juda-Ka-Talab campsite is encircled by large pine trees. Juda Ka Talab which can never be missed by any trekker due to its sharp contrasting and unique beauty.
Its a too perfect a destination. The sharp contrast of a giant frozen lake on the left and thick pine and oak forest on the right is a fascinating setting the lap of Mother Nature and an ideal campsite to spend a perfect evening.
One can engage in activities like photography or nature walk to explore the area at the best. At the night time, a campfire can also be a good idea to share the light supper some warm drinks underneath the clear sky. The night sky, however, is a treat to the eyes with bright and shining stars creating a magnificent aura which is enjoyable for all trekkers.
We will be staying beside the small pond surrounded by Pine and Oak trees for an hour. One can have beautiful views of snow-clad peaks from Juda Ka Talab Campsite.
Overnight stay in tents at Juda-Ka-Talab.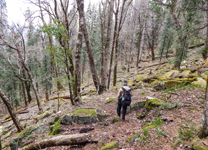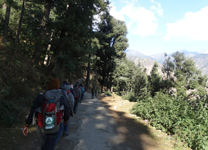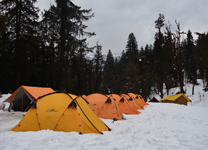 Day
3
Trek from Juda Ka Talab to Kedarkantha Peak - Back to Kedarkantha Base
Today is a long day trek up to the Kedarkantha Summit Peak, located at an altitude of 12,500 feet via. Kedarkantha Basecamp. This is an approximately 6 km trek.
Ideally, it is a long day but the excitement of the journey and conquering the peak would be far greater and much more worthy in compared to the challenges that lay ahead for the visitors.
This is one of the best winter treks in the Himalayas and has the prettiest campsites among all. Not all treks will boast of the wonder of their campsites just like the Kedarkantha trek. Every camping site is exclusive in its beauty.
This is an enormous perk of trekking to Kedarkantha. Right from the Kedarkantha base camp, you'll see gorgeous 360-degree views of notable mountain summits, this is often jaw-dropping. Once you get to the Kedarkantha summit, it's as if you've got touched the sky and every one the summits are at your eye level!
Enjoy your lunch with panoramic views of snow-clad peaks of Gangotri and Yamunotri ranges. After spending some quality time at the peak like taking the picture we trek down through the thick forest of Pine and Maple trees.
After seeing the golden glow of snow clad peaks, we start again at 12.30 pm to our campsite at Kedarkantha basecamp that takes around 6.5 hours to reach.
Kedarkantha Base camping site is on an open grassland with snow peaks all around. It seems as if each of the campsites competes with the other for the attractive setting.
Enjoy dinner and overnight stay in tents.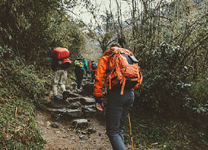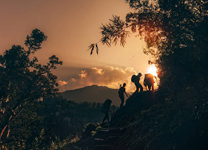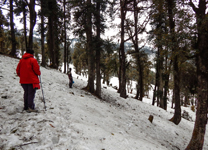 Day
4
Trek from Kedarkantha BaseCamp to Sankri via. Hargaon
Early morning after the sunrise, enjoy your breakfast. After then, proceed descend trek to Sankri via Hargaon (at an elevation of 8,900 feet).
You trek mostly through forest cover, with clearings surrounded by maple trees along the way. You get some really beautiful views of Har-ki-Dun and Swargarohini from these clearings. Start early so that you can spend some time taking in these views.
On arrival, take some rest and explore the area. Enjoy dinner and overnight stay.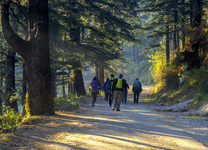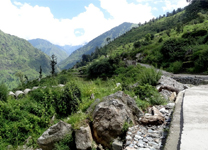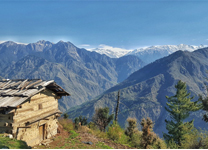 Day
5
5 Sankri to Dehradun
After breakfast, drive back to Dehradun to catch your Bus/Train to Delhi with some amazing memories of the Kedarkantha Trek.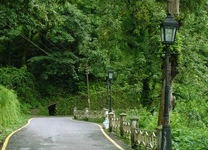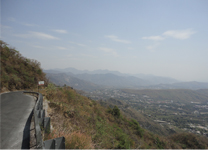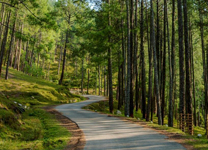 Transportation from Dehradun to Dehradun.
All Meals while on trek (Veg.)
Accommodation (Guest house, Home stay, Camping)
First aid medical kits, stretcher and oxygen cylinder.
Trek equipment's (Sleeping bag, mattress, Kitchen & dinning tent, crampon, utensils, tent)
Mountaineering qualified & professional trek Leader, guide and Support staff.
Any personal expenses, Insurance.
Soft drinks, bottled water, beverages, etc.
Any costs arising out of natural circumstances.
FAQ
Best time to visit at for trekking?
Best time to visit for trekking is Between May to June. After June as the Monsoon arrive Heavy rain start in this area so it is not possible to go for trekking after June
Carry woollen cloths at the time of trekking as weather can change anytime.
Are you providing food or not?
Yes, are providing food during trek but still recommend you to carry some packaged item to.
What colour of cloth we need to carry?
You can carry any colour there is no specific colour that you should carry or don't carry.
Should I carry cutlery during trek ?
No the complete cutlery is provided by us. You don't need to carry anything in cutlery
things to do
If you are planning to for trekking at that time you need a check-list which you can follow at the time of bag pack
Complete Research: The first step is the most important one as 100 things can go wrong during your trip and you have to be ready to handle each and every situation. So much make a complete research like want kind of where is there, if you have carry cutlery or not, type of stay many other thing.
Test your fitness: In a journey there are many points where you feel sick so much be always be prepared for every situationduring trekkingyou always have to prepared for freezing cold, acute mountain sickness. There are some place where there is shortage of oxygen at such a great heights will test your limit, time to prove how fit you are. You need lot of energy required at the time of trekkingif you feeling now you can't handle all the things need not to think like this be mentally prepared also I would recommend you to do some stamina building activities.
Number of days: Take some extra days as you can't believe on weather as any time you can face landslides, heavy rainfall uncertain climate change and you have to stay there only without any option. So take some extra days also don't forget to have day offat some place to celebrate your success , Cheer up as its dream which comes true.
Documents you must carry: Before going there you need to carry following documents like one photo ID- card.
Cloths and accessories: As the weather can change any time you need to carry warm cloths and the following things
Saddle bags/ Magnetic tank bag/ Luggage carrier
Comfortable clothes: tracks, raincoats, tee-shirts also carry one extra cloth
Wind-cheaters, Jackets and pullovers
Flashlight with extra batterie
Don't for trek
Don't take valuable articles with you
Don't leave your garbage at camp site, take back all that you carry
Don't play music on your mobile, this disturbs Jungle silence
Don't take any shortcuts since that may cause you & others lot of trouble
Don't take alcoholic drinks, this can be cause of serious accident
Don't smoke, this too can cause Jungle fires as well as animals will run away due to strong smell
Don't wear flashy cloths, put ones which matches natural colors
Do's for trek
Study the location map and collect information from senior members or internet about the place
Be a good team member, listen to what trek leader says
Maintain discipline
Observe for pugmarks
Trek Essentials
Basic Gear:
Bagpack and Daypack with comfortable straps and rain covers.
Water bottles and high energy packaged food.
Flashlight and headtorch.
High ankle trekking shoes.
Raincoats.
Ropes and sticks.
Clothing :
Wind and Water proof jackets and pants.
Woolen sweaters.
Thermal inners.
Cotton tshirts.
Trek pants.
Woolen caps and mufflers.
Woolen and cotton socks.
Waterproof and woolen gloves.
Personal Utilities :
Soap and washes
Sunscreen cream and Moisturizer
Antibacterial powder
Toothbrush and toothpaste
Toilet Paper & wipes
Quick dry towel

Medical kit :
Medicines like Paracetamol, Aspirin, Ciplox, Nimesulide, Citrizine, Benocide etc. (consult a doctor)
Ointment like Moov or Volini.
Painkillers.
Otrivin.
Anti-rash creams like Betnovet
Starting From:
Per Person
Money Safe
100%
Support
24*7
Destination
131+
Reasons to Book with us
Team Support
Our amazing as well as charming team helps you choose the best destination packages for you., that makes you feel indulged, comfortable and insipiring thorugh out your travel .
Best of both worlds
We at Nirvana make sure that you do not have to compromise between adventure or good stay. We provide an amazing and comfortable stay that makes you feel at home along with the adventure you are seeking for.
Pocket friendly pacakges
For you do not have to think before traveling and exploring new places, we at Nirvana provide cheapest and pocket friendly packages cause we believe that the journey of the thousand miles begin with a single step.