HIGHLIGHTS
Shirdi is the home of one of the most revered saint - Sai Baba. Well known as the 'Child of God', Sai Baba talks of tolerance towards all religions and shared the message of universal brotherhood. Located 241 kms away from Mumbai.
At Nirvana trip, we offer a well arranged Mumbai-Shirdi Tour that will take you away from the hustle and bustle of the city. During tour, we will take you to the world famous Sai Baba Temple, Dwarkamai, Chavadi and Shani Shingnapur. So, be ready for a lifetime travel experience.
Itinerary
Day
1
Mumbai to Shirdi (241kms)
We will pick you up and assist by Nirvana trip representative from Airport/Railway station and drive to Shirdi. Upon arrival, check-in at pre-booked hotel. If we have time we will visit the Dixit Wada Museum, Gurusthan otherwise spend day leisure. In the evening, we will drive back to the hotel for an overnight stay.
Dixit Wada Museum: Located at the center of the Sansthan complex, consists rare black and white pictures of Sai Baba, Baba's Kafni which is long robes and his leather padukas and his smoking pipe are also on display in this museum. It is open for public from 10 am to 6 pm.
Gurusthan: Gurusthan is a place where Sai Baba was visible for the first time to the world when he was 16 years old at that time. In Gurusthan there is a Neem tree and a little enshrine on a lifted platform of this enshrine a big portraiture of Baba is laid.
Note: It is advisable that choose your train or flight which is expected to reach Mumbai early morning or evening as we have drive further so book your ticket accordingly.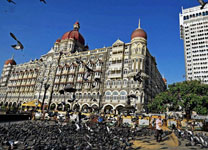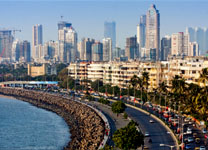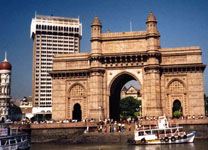 Day
2
Shirdi (Shani Shingnapur & Sai Baba Temple Visit)
In the morning, we will visit the Sai Baba Temple and Shani Shingnapur and return back for overnight stay.
Sai Baba Temple: The Sai Baba temple of Shirdi attracts millions and billions of devotees of all religions, castes and creed from around the world. The temple is a beautiful shrine built over the Samadhi of Shri Sai Baba. The temple open for devotees at 5.15 A.M with Kakad Aarti and remains open till the end of Shejarti.
Shani Shingnapur: An impressive village with the fact that no house in the village have door. The local resident here believes that Lord Shaneshwara will save them from all evil. Temple of Lord Shaneshwara here with his large idol made of black stone.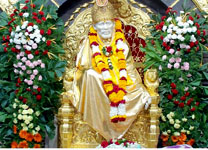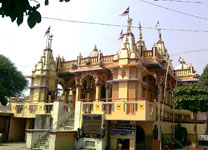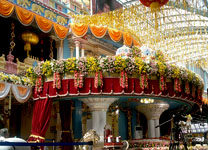 Day
3
Shirdi to Mumbai (241kms)
After breakfast we will drive back to Mumbai. On arrival at Mumbai, we will drop you at your desired location.
End of the services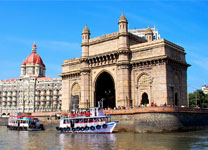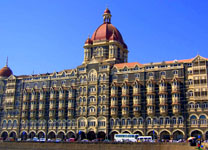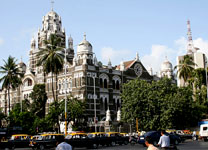 Meeting and assistance on arrival.
Accommodations
Daily Buffet/ fixed Menu breakfast.
Air-conditioned Vehicle for sightseeing
Any Airfare & Any Train fare.
Monuments entry fee.
Camera & video fee in monuments.
Any meal not specified above.
Any personal nature tip, laundry telephone calls.
Government Service Tax.
FAQ
How can I make donation offerings to Shri Sai Baba?
Offering to Shri Sai Baba in cash or kind should always be made at the donation office against a receipt.
Where can I buy Pooja articles before coming to the Samadhi Mandir?
Devotees can obtain all the requisite Pooja articles at various shops on the periphery of the Temple Complex.
Are there any emergency medical services available at Shirdi?
Medical facilities are available at the well-equipped 'Shri Sainath Hospital' run by the Shri Saibaba SansthanTrust.
things to do
Not available for this package.
Starting From:
Per Person
Money Safe
100%
Support
24*7
Destination
131+
Reasons to Book with us
Team Support
Our amazing as well as charming team helps you choose the best destination packages for you., that makes you feel indulged, comfortable and insipiring thorugh out your travel .
Best of both worlds
We at Nirvana make sure that you do not have to compromise between adventure or good stay. We provide an amazing and comfortable stay that makes you feel at home along with the adventure you are seeking for.
Pocket friendly pacakges
For you do not have to think before traveling and exploring new places, we at Nirvana provide cheapest and pocket friendly packages cause we believe that the journey of the thousand miles begin with a single step.