HIGHLIGHTS
Triund Trek is a trek to a small lake situated in the lap of Dhauladhar mountains in the state of Himachal Pradesh. The Triund lake is surrounded by a large land of green grass but the trail is rocky and cuts in step at some places.
Trek to Triund Lake is an ideal trekking destination for everyone due to its easy level of difficulty. This beautiful trail passes through a mixed forest of Oak, Deodar and Rhododendron. During the entire trek, the view of Dhauladhar Mountain ranges is awe- inspiring & exhilarating.
You can do this trek at any time of the year for refreshing yourself & active weekend.
Region – Himachal Pradesh
Altitude – 3300 Metres
Total trekking distance - 28 KM
Accommodation – Tent
Trip start from – Mcleodganj
Trip ends in – Mcleodganj
Difficulty Level – Easy
Food - Complete Breakfast and Dinner Nutritious food during Trekking
Itinerary
Day
1
Mcleodganj–Triund
Altitude – 1785 Metres- 2875 Metres
Trekking distance – 9 KM
Time – 4-5 Hours
Report in Dharamshala by 8:00 to 8:30 AM
From Dharamshala, you have to go to Mcleodganj which is just 5 KM from Dharamshala, on your own cost.
Trek begins from Mcleodganj.
First, the trek from Mcleodganj to Galu Devi temple is a bit tiring but after crossing Galu Devi Temple, the trek is easy.
The last section of today's trek comprises of "22 curves".
Upon arrival pitch in a camp and relax.
Enjoy the evening view from Triund lake with chai and snacks. Retire to bed after dinner.
Overnight Stay in Camps.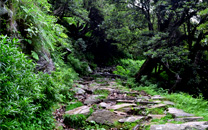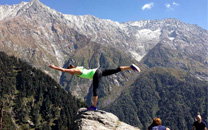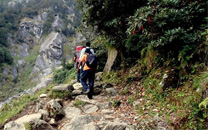 Day
2
Triund – Laka Pass – Mcleodganj
Altitude – 1785 Metres - 3300 Metres
Trekking distance – 19 KM
Time – 7-8 Hours
Wake up early morning, if you want you can do some extra activities like yoga.
The view from Triund is magnificent at morning time.
Take a deep breath and explore the beauty of mighty Dhauladhar ranges.
After breakfast, start your trek towards Laka Pass. It will take about 2-3 hours to reach Laka.
The first milestone of the day is Snowline Cafe, which is around 2 km away from Triund. The route till Snowline Cafe is mostly uphill.
Laka is just 3km away from Snowline. The trail from Snowline to Laka Pass consists of flat plains and downhill.
After spending leisure time at Laka, we will start further. From here, the trek is decent.
It will take 4-5 Hours to Reach Mcleodganj.
You may plan your return accordingly.
Tip and services end here only.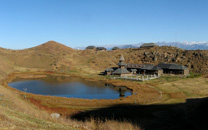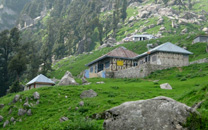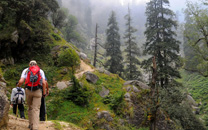 Accommodation. ( Camping/ Tent)
Meals while on trek (Veg.)
Trek equipment's (Sleeping bag, mattress, Kitchen & dinning tent, crampon, utensils, tent)
First aid medical kits
Mountaineering qualified & professional trek Leader, guide and Support staff.
Government service tax 9.0%
Air/Train fare
Anything not mentioned under the head inclusions.
Cost incidental to any change in the itinerary / stay on account of flight cancellation due to bad weather, ill health, road blocks and / or any factors beyond control.
The tariff does not include barbeque, personal expenses like telephone, laundry etc.
FAQ
Nirvana trip specializes in holiday tour packages, Cultural and natural heritage tour packages, hiking, trekking, rafting, wildlife safaris and mountain biking along with the customized tours as per your requirements and demand.
Learning Experience: We do not just focus on completing the trek but also help you develop basic
Trekking skills like:
Morning Yoga & Evening stretching
How to pitch and dismantle a camping tent and properly use a sleeping bag
Packing a rucksack
Personalized attention: We have small batch size (max. 15) our batches to enable individual focus and monitoring.
Best Expedition Leaders: Our leaders are advanced mountaineering course qualified, also have experienced mountaineering group who will be there with you at the time of trekking
Pocket Friendly Packages:We at Nirvana believe that traveling is for each one of us, we assure you a trip that doesn't dig a hole in your pocket. We provide great service in the lowest price possible.
Safety norms: We have mapped every region with an emergency evacuation plan far. We carry an extensive first-aid kit including oxygen cylinders and high altitude medicines.
Approved by: Nirvana trip is approved by Adventure Tour Operators Association of India.
What type of clothes and accessories need to carry during trek?
As the weather can change any time you need to carry warm cloths and the following things
Saddle bags/ Magnetic tank bag/ Luggage carrier
Comfortable clothes: tracks, raincoats, tee-shirts
Wind-cheaters, Jackets and pullovers
Flashlight with extra batteries
Riding Shoes, a pair of slippers for the night, extra pair of socks
Sunglasses, caps or hats, sunscreen lotion and insect repellents
Personal toiletries
Water bottles etc.
Best time to visit Triund trek?
Triund is comfortable for most part of the year except for heavy snowfall in the months of January and February . The best time for trekking is from March till May in first part of the year and September till December in the second half of the year, the meadow is lush green presenting out of this world vista
Is cellular network available during the trek?
Triund does not have a very strong cellular connection, usually the signal comes and goes thus is not very reliable.
things to do
If you are planning to for trekking at that time you need a check-list which you can follow at the time of bag pack
Complete Research: The first step is the most important one as 100 things can go wrong during your trip and you have to be ready to handle each and every situation. So much make a complete research like want kind of where is there, if you have carry cutlery or not, type of stay many other thing.
Test your fitness: In a journey there are many points where you feel sick so much be always be prepared for every situation during trekking you always have to prepared for freezing cold, acute mountain sickness. There are some place where there is shortage of oxygen at such a great heights will test your limit, time to prove how fit you are. You need lot of energy required at the time of trekking if you feeling now you can't handle all the things need not to think like this be mentally prepared also I would recommend you to do some stamina building activities.
Number of days: Take some extra days as you can't believe on weather as any time you can face landslides, heavy rainfall uncertain climate change and you have to stay there only without any option. So take some extra days also don't forget to have day offat some place to celebrate your success , Cheer up as its dream which comes true.
Documents you must carry: Before going there you need to carry following documents like one photo ID- card.
Cloths and accessories: As the weather can change any time you need to carry warm cloths and the following things
Saddle bags/ Magnetic tank bag/ Luggage carrier
Comfortable clothes: tracks, raincoats, tee-shirts also carry one extra cloth
Wind-cheaters, Jackets and pullovers
Flashlight with extra batterie
Shoes with good grip, extra pair of socks,
Sunglasses, caps or hats, sunscreen lotion and insect repellents
Personal toiletries
Water bottles etc
First aid
Don't for trek
Don't take valuable articles with you
Don't leave your garbage at camp site, take back all that you carry
Don't play music on your mobile, this disturbs Jungle silence
Don't take any shortcuts since that may cause you & others lot of trouble
Don't take alcoholic drinks, this can be cause of serious accident
Don't smoke, this too can cause Jungle fires as well as animals will run away due to strong smell
Don't wear flashy cloths, put ones which matches natural colors
Do's for trek
Study the location map and collect information from senior members or internet about the place
Be a good team member, listen to what trek leader says
Maintain discipline
Observe for pugmarks
Trek Essentials
Basic Gear:
Bagpack and Daypack with comfortable straps and rain covers.
Water bottles and high energy packaged food.
Flashlight and headtorch.
High ankle trekking shoes.
Raincoats.
Ropes and sticks.
Clothing :
Wind and Water proof jackets and pants.
Woolen sweaters.
Thermal inners.
Cotton tshirts.
Trek pants.
Woolen caps and mufflers.
Woolen and cotton socks.
Waterproof and woolen gloves.
Personal Utilities :
Soap and washes
Sunscreen cream and Moisturizer
Antibacterial powder
Toothbrush and toothpaste
Toilet Paper & wipes
Quick dry towel

Medical kit :
Medicines like Paracetamol, Aspirin, Ciplox, Nimesulide, Citrizine, Benocide etc. (consult a doctor)
Ointment like Moov or Volini.
Painkillers.
Otrivin.
Anti-rash creams like Betnovet
Starting From:
Per Person
Money Safe
100%
Support
24*7
Destination
131+
Reasons to Book with us
Team Support
Our amazing as well as charming team helps you choose the best destination packages for you., that makes you feel indulged, comfortable and insipiring thorugh out your travel .
Best of both worlds
We at Nirvana make sure that you do not have to compromise between adventure or good stay. We provide an amazing and comfortable stay that makes you feel at home along with the adventure you are seeking for.
Pocket friendly pacakges
For you do not have to think before traveling and exploring new places, we at Nirvana provide cheapest and pocket friendly packages cause we believe that the journey of the thousand miles begin with a single step.